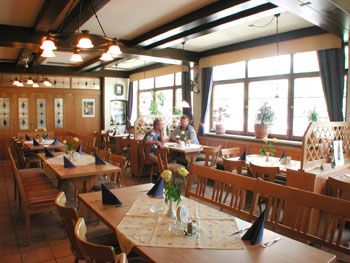 Restaurant
We offer you Saturday 23.02.2019 full day:
six different menus for 10,50 EUR each (soup, main dish, salad)
CHOOSE BETWEEN SOUP OR DESSERT!
SOUPS CHOICE: Liver Spaetzle soup / Tyrolean bacon dumpling soup / potato cream soup
DESSERT CHOICE: Poppy seed strudel with custard or ice cream roll

MENU 1:
SOUP OR DESSERT
Roast suckling pig with dumplings
***
MENU 2:
SOUP OR DESSERT
Angus hip steak with baked potato
***
MENU 3:
SOUP OR DESSERTT
Prawn skewers (2 pieces) with rice and herb cream
***
MENU 4:
SOUP OR DESSERT
Turkey escalope "Allgäu style" with spaetzle
***
MENU 5:
SOUP OR DESSERT
Tagliatelle with vegetable cream sauce
***
MENU 6:
SOUP OR DESSERT
Pork tenderloin with croquettes and pepper cream sauce
ALL MENUS INCLUDING A SAlAD FROM SALADBUFFET !!
Number of seats: 340 inside, 100 outside in the beer garden.
Car park around the hotel.
Plan a larger celebration?
In our hall can accommodate up to 150 people. Our kitchen offers a wide range of international dishes.
At weekends we offer discounted accommodations! Ask us!
Tel: +49 (0) 8105-270-0
Opening hours:
Mon - Sat 11 a.m. - 12 p.m.,
Sun and public holidays 9 a.m. - 3 p.m.
Open 365 days a year!
Lunch:
Mon - Sat 11.30 a.m. - 2 p.m.
Diner: Mon - Sat 6 p.m. - 9.30 p.m.
Son and public holidays:
11.30 a.m. - 2 p.m., 3 p.m. closed